What is Restaurants in front of Minami-Osawa
~Tokyo Meatrea~ ?
In Restaurants in front of Minami-Osawa ~Tokyo Meatrea~ , there are restaurants where you can take your time to enjoy the food, and food stands where you can pick all that you like and enjoy the food sitting in the common space.
You may take your time to enjoy sizzling teppanyaki and yakiniku in the restaurants, or order takeout. Takeout menu is available in all restaurants including food stands. There are also 100 seats in the common space, so that you may order different takeout and eat here.
Access
〒192-0364 2-1-6 Frente-Minamioosawa (shinkan)5F
Minamiosawa,Hachioji-shi,Tokyo
Hours 11:00 AM - 10:00 PM(Last call 9:30PM)
■Right in front of Minami-Osawa station, Keio Sagamihara Line
(40 minutes from Shinjuku Station/5 minutes from Hashimoto Station)
※Please take the train or bus to come.
※Parking charge discount is not available for Tokyo Meatrea users.
Restaurants
Yakiniku Bar Santama

【Yakiniku】

Specialty "Fresh Beef tongue" and many other choices available, all fresh from Gunma Prefecture!
Expensive cuts of beef are provided at a reasonable price, which allows you to enjoy the meat to the full. We have full confidence in the quality of meat!

Seishomaru

【noodles served with a dipping sauce,Chinese noodle】

Noodles served with a dipping sauce made from fish and meat. You can choose super thick noodle or thick noodle, and small size bowl of noodle perfect for ladies and children.

BBQ KITCHEN

【Steak&Grill】

Large volume juicy steak on sizzling plate and other grilled dishes. Don't take your eyes off the rare parts of beef which are limited in quantity!
Enjoy the meat to the full at BBQ KITCHEN!

Lunch Time:
Weekday 11:00-15:00

GOLD RU$H

【Hamburg steak】

GOLD RU$H is a popular Hamburg steak restaurant which is recommended by TV programs and magazines.
Hamburg steak in GOLD RU$H is handmade and 100% made from beef, with 15 kinds of spice. Homemade sauce is poured on the hamburg steak to make it juicy. Many people came back to taste it once more in a week!

Lunch time:
Weekday 11:00-16:00

Ooita Fried Chicken Fukukara Stalls

【Fried Chicken】

All the delicious food from Matsuri stalls can be found here, including the famous Ooita Fried Chicken. You can have rice bowl dishes for lunch, potato chips, tapioca milk tea and ice cream in the afternoon and Ooita Fried Chicken and skewers to go with alcohol.

CLASSIC

【Indian Curry】

Butter chicken curry with smooth gravy and keema curry with juicy ground meat. Fragrant tandoor-cooked naan and large volume tandoori chicken. Lassi and dessert after the meal is also recommended! Come enjoy various authentic dishes made by our Indian chef!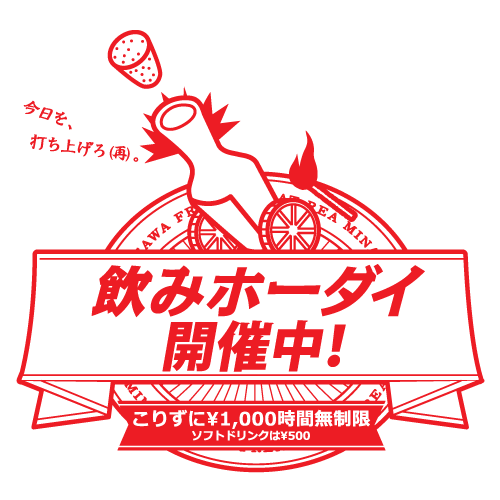 All-you-can-drink
100 kinds of liquor including draft beer, highball, shochu, wine, makgeolli, cocktail, sour and fruit wine! All-you-can-drink with no time limit!
●Date
Monday~Saturday (national holidays are excluded) 5:00 PM - 10:00 PM(Last call 9:30PM)
●Fee
Alcohol 1,000yen  Softdrink 500yen(No time limit&All-you-can-drink)
There are also snack menu other than regular menu in restaurants of Tokyo Meatrea!
※Please order at least 1 dish per person in each restaurant of Tokyo Meatrea.